Add Warmth to Your Yard With a Custom Outdoor Fireplace or Fire Pit
There's nothing better than gathering with family and friends around a fire. When you add a custom outdoor fireplace or fire pit from Southern Greenscapes, you're creating more than just warmth. You're creating memories.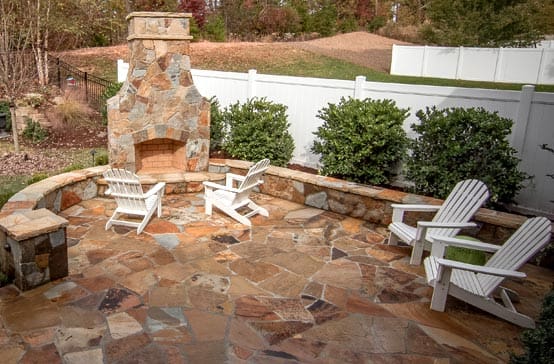 Custom Outdoor Fire Features Make a Statement
It's true that you can buy pre-made outdoor fire features from lots of places. So why should you invest in custom work? The answer is simple: quality. We design and build your fireplace or fire pit specifically for your yard using only the best materials. Our work is made to last so you know you'll get many years of enjoyment.
Outdoor Fireplaces
Outdoor fireplaces can be built from many different materials. Choose from a wide range of stone, concrete, wood, or paver options. You'll also get to choose whether your fireplace uses gas or wood as a heat source.
Gas Outdoor Fireplaces
An outdoor fireplace that burns natural gas will be cleaner, creating almost no smoke (if any) and leaving no ashes behind. They're easy to start, prep, and maintain so all you'll have to do is enjoy.
Wood-Burning Outdoor Fireplaces
Wood-burning outdoor fireplaces tend to be more affordable but there's also a little more work involved. You'll need a good supply of wood and will have to do more cleaning and maintenance.
Fire Pits
Fire pits are another popular way to enhance your outdoor living spaces. Gather round a beautifully designed stone fire pit all year and make the most of your yard.
Gas Fire Pits
Gas fire pits are smoke-free, odor-free, and virtually maintenance-free. With one touch, you'll have a roaring fire almost instantly—and you'll be able to control the flame with ease.
Wood-Burning Fire Pits
Wood-burning fire pits create the familiar crackle and smell of a campfire. While there's more smoke and setup to deal with, many homeowners find there's nothing like it.
Fire Tables
Fire tables look like patio furniture but give you the added bonus of warmth. Our designs are eye-catching and custom designed to fit in with your hardscaping and home.