Fort Mill Hardscape & Landscape Designer Bringing Outdoor Living Spaces to Life
HARDSCAPES & OUTOOR LIVING SPACES
Hardscaping creates additional living space – outside – including patios, fire features, and outdoor kitchens! At Southern Greenscapes, we help bring your outdoor living space to its full potential through hardscaping and more. We are based in Rock Hill, but we serve Fort Mill and the surrounding South and North Carolina areas.
SUNROOMS | EZE-BREEZE 3 SEASON ROOMS
Sunrooms let you experience the beauty of nature while enjoying the comfort of the indoors. A 3-season room is sure to become one of your favorite spaces in your home. We'll help you choose the perfect location based on the sun, along with the best materials for your needs.
PATIOS AND PAVERS
Patios are beautiful and functional additions to any home. The patio builders at Southern Greenscapes use expert workmanship and creative vision to design beautiful spaces you'll love. Our experience is only matched by the materials, care, and attention to detail we put into every job.
EXTERIOR HOUSE PAINTING
Improve your home's appearance with a fresh coat of paint. Southern Greenscapes' exterior painting services will dramatically increase your home's curb appeal while protecting your home from the elements.
Premium Hardscape and Landscape Designers in
Fort Mill and Rock Hill, South Carolina, and the Surrounding Areas
Southern Greenscapes serves clients in the following areas:
Fort Mill  •  Tega Cay  •  Rock Hill
Lake Wylie  •  Clover  •  Indian Land
Waxhaw  •  Weddington
Hardscaping Creates Additional Living Space
At Southern Greenscapes, we help bring your outdoor living space to its full potential through hardscaping and more. We are based in Rock Hill, but we also serve surrounding areas. Get in touch with us to get the outdoor living space you have always wanted.
Rutledge Wood Rides with Southern Greenscapes
Follow Rutledge Wood, tv host of Netflix's Floor and Lava and other shows, as he rides along with John, the owner of Southern Greenscapes, for a day in the field. They talk about Outdoor Living Projects, 3D Landscape Design, Outdoor Kitchens, Swimming Pools, and Large Water Features.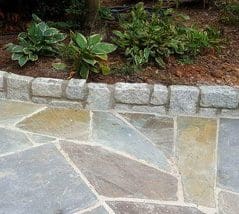 See How Versatile Hardscaping Can Be
Southern Greenscapes provides expert design and construction to increase your property's value. Our capabilities are only limited by your imagination. Hardscaping services offered include patios, outdoor fireplaces, outdoor kitchens, decks, pergolas, porches, pool houses, and everything else you need to create amazing outdoor living spaces.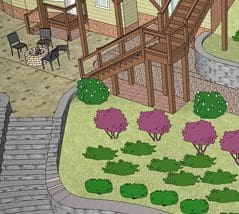 Plans Become Reality With 3-D Landscape Design
All hardscape contractors create plans but not all of them provide 3-D landscape design services. At Southern Greenscapes, we do. We use the latest technology to give you realistic renderings of your project. You'll know exactly what you're getting before the job starts. It's exciting to see what will soon be created in your yard—and we're just as excited to show you!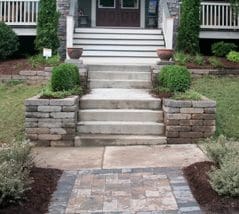 Our Proven Process for Client Satisfaction
We want to make sure you have a great experience with us. That's why we created a six-step process to make sure every client gets the same attention to detail. These steps are what set us apart from all other landscape companies, large and small.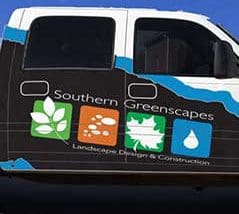 Our Certified Installers Give You Premium Results
As ICPI-certified concrete paver installers, the Southern Greenscapes team can create gorgeous outdoor kitchens and patios that flow with the design of your home. We are also NCMA-certified in building residential and commercial retaining walls. As an environmentally conscious landscape company, we preserve the natural beauty and integrity of your property while enhancing the quality of life at your home.
Why Choose Southern Greenscapes
Experienced: Southern Greenscapes has extensive experience in landscape design and hardscaping. We have completed projects of all sizes.
Reliable: Whenever you hire us to complete a job, you can expect us to arrive on time and deliver a finished product that meets your approval.
Customer Satisfaction Guaranteed: Our job is not complete until you are completely satisfied with our work. We strive to meet and exceed your expectations.