Meet Southern Greenscapes
We Put Our Hardscaping Clients First — Here's the Proof
At Southern Greenscapes, we aren't just striving for customer satisfaction. Ecstatic customers are our goal. The beautiful landscape designs, hardscapes, and landscape lighting our landscape architects create and install in Fort Mill and surrounding areas are the result of our dedication to detail. We are proud to help our customers turn their landscaping ideas into a wonderful reality.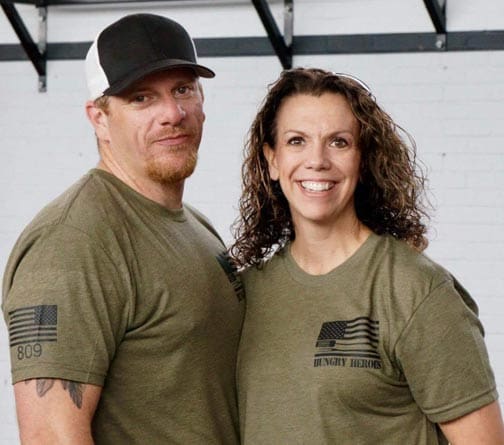 Meet John Bell,
Owner of Southern Greenscapes
I'm John Bell, owner of Southern Greenscapes. I'm originally from Lexington, SC, where I grew up spending endless hours outside. In high school, I worked in the landscape industry part-time. After graduating from high school, I enrolled at Winthrop University in Rock Hill where I majored in business and marketing. While at Winthrop, I met my beautiful bride, Laura. From the beginning, we knew God brought us together. Rock Hill has been the place we've called home since 1996. We now have three beautiful and active kids, two daughters and a son. Our oldest daughter is an avid volleyball player, our middle daughter is a competitive gymnast, and I am my son's baseball coach. We are all actively involved as members of St. John's United Methodist Church in Rock Hill.
Why We Do What We Do
After spending several years in outside sales and customer service, I decided to come back to what I loved and start my own business. Through prayers and perseverance, Southern Greenscapes has grown to be one of the premier outdoor living design/build firms in the area. When I started the company in 2006, I set out to be different from others in my field. I strongly believe that I can give customers a beautiful, well-built space while making a respectable income. This commitment to my customers has fueled our growth and given us a reputation like no other in the area. I am not a yes-man. If I feel like there is a better way of designing something that will give you better value, I will tell you despite the underlying effects to my profit. This attitude has not afforded me a big house or a luxurious lifestyle, but it has given me a business and loyal following that I can be proud of.
Our Six Step Process — Our Proven Process for Client Satisfaction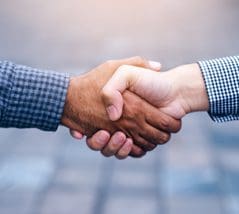 Step 1 — Meeting
From the very beginning, you will notice our dedication to our customers. Our goal is to always communicate openly and promptly with our customers. Gone are the days of calling someone and waiting days for a return phone call. We strive to answer calls as they come in, and if you have to leave a message, you can rest assured you will receive a return call very soon. We have found that our enthusiasm for what we do is well portrayed in our eagerness to communicate with our customers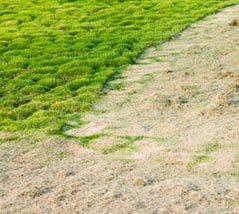 Step 2 — Site Visit
We also like to meet with each potential customer as soon as possible; often within a few days of the initial contact. Every new project gets a site visit to determine what your yard looks like now and what you are looking to accomplish in the future. With this site visit, we take the time to listen and interact with you to make sure we gather as much information about your dreams and inspirations as possible.
During this site visit, we will typically ask if there is a certain budget that you wish to stay with in. This question is important so that we travel down a directed path. In designing a landscape, a project can sometimes vary from $3,000 to $20,000+ depending on the elements and materials used. An accurate answer to this question will insure that we are designing and offering you a design you feel comfortable with.
Step 3 — Design Stage
During the design stage, we visit with our customers and determine the scope of the project to make sure we fully understand what you are looking for. We also take this time to brain storm with various design ideas and techniques that may better communicate each of our ideas and visions. This process can sometimes take us to other locations, such as nurseries and stone yards, to determine the right look for your project.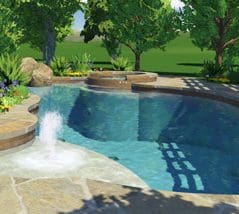 Step 4 — Proposal
Throughout this whole process, we have been listening to your ideas and communicating ours. With the proposal, we will show you what your new landscape or hardscape will look like through the use of several computer programs, hand drawn designs and pictures. This is also the time to discuss any final details before we begin work. We will also take time to educate our customers on the steps that will be taken to complete your project.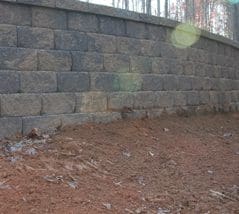 Step 5 — Construction
This is where we do the hard work and you watch your dream landscape become a reality. We take time to protect areas of travel and construction from unnecessary damage. We also take time to introduce ourselves to your neighbors and let them know what will be happening so that our presence does not disrupt their lives. We can't control the weather, but we take every opportunity to do our job well, on time, and with as little disruption to your lives as possible.
Step 6 — Walk-Thru
Here we are – another beautiful hardscape design completed, but not until we walk you around to check out the finer details of what has been done. This is also the time when we will show you how to operate any new appliances, change any settings or timers, or how to maintain your new hardscape and its features. Only then will we have "Another Satisfied Customer."